We are super excited to welcome back Jonathan Toubin and his New York Night Train Soul Clap dance party! What a perfect way to spend a cold winter night, sweating to some soul while competing for the treasured bragging rights of having the fanciest moves in town. If you can't make it tonight, which would be a drag, at least make the effort to download and stream his wonderfully rare mix tapes.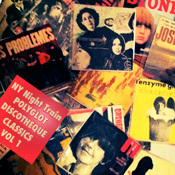 DOWNLOAD/STREAM "POLYGLOT DISCOTHEQUE CLASSICS VOL. 1: FOREIGN FUZZ 45S & OTHER DELIGHTS"
This one-hour mix is FREE TO DOWNLOAD OR STREAM! While it won't sound nearly as good as the original 7-inches, NYNT took the trouble to upload the mix in the high-quality uncompressed AIFF medium – so, unlike mp3s, should be almost suitable for burning to CD, playing at a party, a DJ set, etc, or just enjoying at home or work as is.